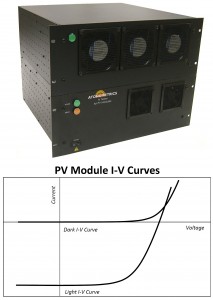 The Atonometrics Multi-Channel I-V Measurement System measures the current-voltage relationships (I-V curves) of photovoltaic (PV) modules.
The system can both source and sink current, providing multi-quadrant measurement capability. This enables measurement of PV module I-V curves under either illuminated (light I-V) or non-illuminated (dark I-V) conditions.
The master chassis provides for measurement of a single PV Module, and the optional expansion chassis allows for the simultaneous testing of up to six PV modules.
Features include:
Configurations available for a wide range of PV module currents and voltages.
Input channels for module temperature measurements (Pt-100 RTD or type K Thermocouple)
Tracking modes, which allow the user to actively track Pmax, Voc, Isc, or any fixed current or voltage
System software to extract typical device parameters inclulding Isc, Voc, Impp, Vmpp, Pmax, and others
Ability to operate in either a standalone mode or as part of an automated process control system
Separate input for a PV reference cell for irradiance measurement
The Atonometrics PV Module I-V System can also be mounted in a in a ruggedized, portable carrying case.  This configuration of the I-V system provides all the benefits of our standard rack-mount I-V system, but allows users to make PV module characterization measurements in the field.
The Atonometrics I-V Measurement System for PV Modules is a versatile tool designed to meet your specific PV testing goals.  Contact us for more information on this or our other products.